Companies and Leaders Neglect One of Their Most Important Strategic Levers: Middle Managers
By Anne DeAngelis, Head of Employee Engagement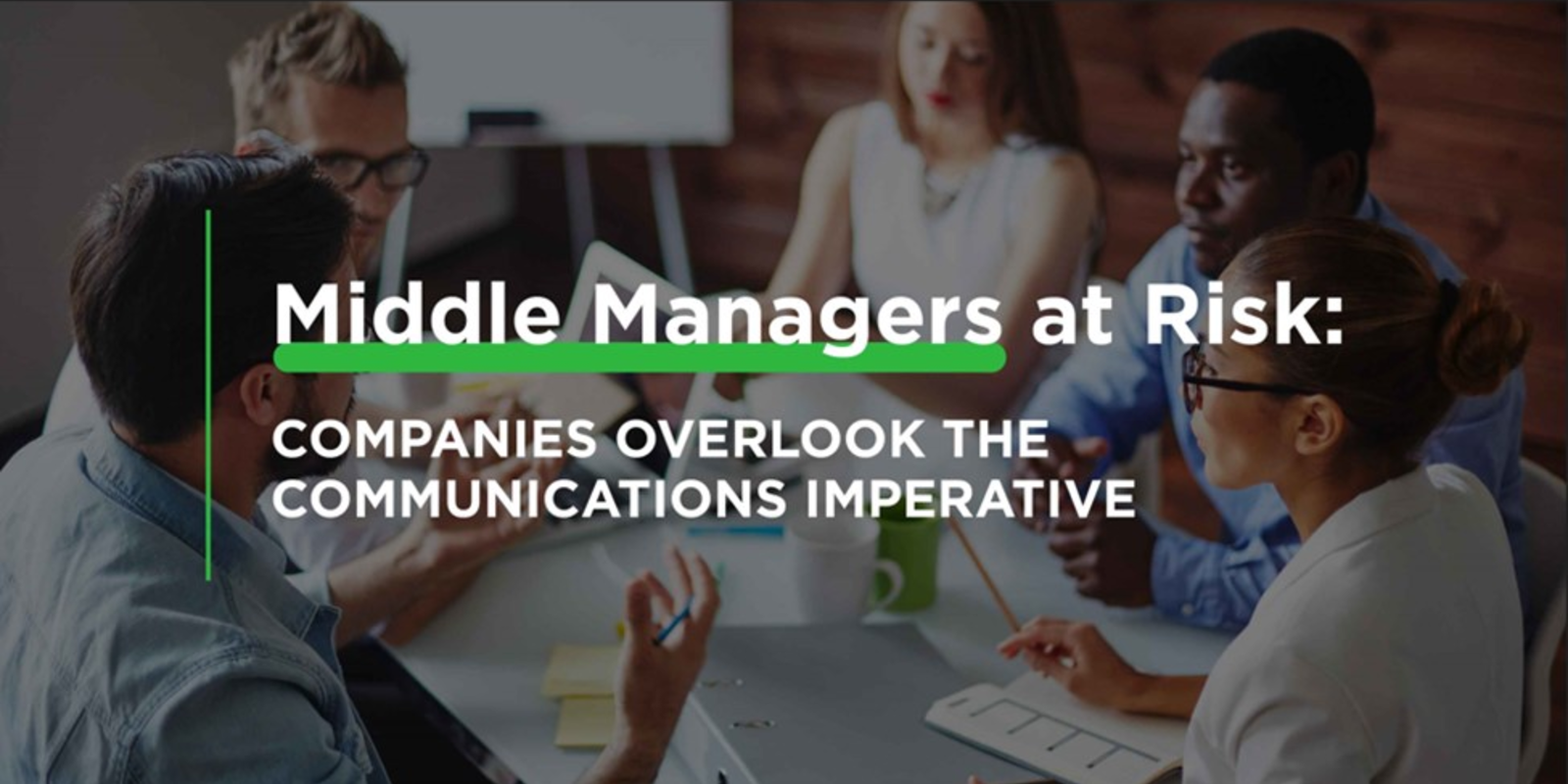 We have all read (and experienced) the pressures in today's workplace – a confluence of rising expectations from four generations in the workforce, harsh economic realities, global crises and demanding business environments. Building the business now goes hand in hand with building company culture. And keeping employees informed and engaged is challenging. Enter middle managers, the unsupported and unsung heroes who could also be a company's hidden engine to drive communications and change. Yet, companies and senior leaders are failing middle managers – and they don't even know it. This is a wake-up call for companies to unlock middle management potential – before managers reach a breaking point and company performance suffers.
Zeno Group's latest study, "Middle Managers at Risk: Companies Overlook the Communications Imperative" surveyed more than 1,500 workers across the U.S. Our research compared non-managers' and leaders' expectations of middle managers, sought to understand if middle managers felt supported for success, and reveals the role communications plays.
Middle Managers Matter Most
Middle managers, often overlooked in the leadership hierarchy, can be powerful catalysts for change when companies and senior leaders give them the right communication and support. However, our findings show almost half of middle managers report feeling unsupported by their leaders. This impacts not only middle managers' job satisfaction but also their team members and the organization as a whole. The Zeno study uncovers that when communications are inclusive, timely, and keep middle managers up to date on issues inside and outside their immediate team, even overwhelmed managers are more likely to be effective advocates for their senior leaders' vision and company strategy.
The Communication Conundrum
Effective communication is the lifeblood of any successful organization. Through communication, leaders set the tone, convey their vision, and ask all employees to work toward a common goal. But it's middle managers who help make these goals relevant and gain employees' alignment. Through our research we found that middle managers see themselves as a vital communications linchpin – one of the most important strategic levers for their organization. In fact, our research shows middle managers consider effective communication as important as integrity when it comes to being a good manager. This is incredible. If you don't behave with integrity, there are serious consequences, so for communication to be held to that standard says a lot.
But middle managers say they need more from senior leaders to be successful when it comes to communications. The study found that nearly nine in ten middle managers (86%) believe that clear and timely communication is vital to their success. However, only 54% of managers say senior leadership is effective in meeting this need. This deficiency can erode trust and hinder progress within an organization.
The Middle Manager Shift from "Cascade" to "Catalyst" for Change
Middle managers have a deep understanding of day-to-day operations, are closely connected with and trusted by their teams, and can readily identify areas for improvement and solutions. They are an untapped – and neglected – resource for organizations seeking change. Taking a multi-faceted approach with middle managers will yield valuable results: 
Provide Mentorship and Support: Senior leaders need to be more present and connected to their middle managers, not only to learn what they need and to keep a pulse on the broader team, but also to actively mentor. Providing timely guidance and a supportive environment can help middle managers thrive in their roles and, in turn, inspire and engage their teams.  

Inform and Empower Middle Managers: Organizations will benefit if they provide middle managers with the context and communication they want and need. Nearly three-quarters of middle managers (73%) believe it's important to be able to explain the 'why' behind company decisions to be a successful manager – but 46% say senior leaders aren't providing this critical information effectively. 

Upskill Leaders to Be Effective Communicators: Middle managers are asking for more support so they can coach and be a master communicator for their team. Senior leaders should invest in improving their middle managers' communications skills and encourage open and honest communication at all levels. Study findings show 71% of middle managers and 63% of general employees feel they do their job more effectively when internal communications are clear and effective.  
Senior leaders must recognize the pivotal role middle managers have to shape today's workplace and tomorrow's workforce. By prioritizing communication and better equipping middle managers, companies can unleash one of their most important strategic levers, improve employee engagement, and meet the communications imperative.
If you would like more information about "Middle Managers at Risk: Companies Overlook the Communications Imperative" study, please see our news release and infographic for more information or Contact Us at Zeno Group.